Hi! I'm Sabrina and I love prints. This is a new development. You see – I used to wear alot of solids, which are always core pieces to have your wardrobe. I felt as though solids could be mixed and matched and repurposed with no problem, whereas prints wouldn't be as versatile or that I would get tired of them.
But, I'm bored with solids and mixing prints is fun! Plus, wearing a mature or sophisticated print confidently is a 30 something#grownwoman move, which I'm definitely here for…!
I've mentioned this before on the blog, but there are a couple fashionistas that wear and mix prints flawlessly (hint: one is Beyonce's sister and the other is Diana Ross' daughter…okay those are bad hints, I know I know).
Lately, I have been opting for texture and prints to spice up my looks. They are interesting and add dimension beyond a basic flat solid.
For this outfit, I combined a print and textured piece to create this fun, interesting look.
If you hadn't guessed, the shirt is vintage. The pattern and palette scream 90's, more specifically "In Living Color" — check this out. It's Versace, copped from La Poubelle Vintage,  a Brooklyn-based vintage shop. The green/yellow/purple is fun and energetic that makes me smile.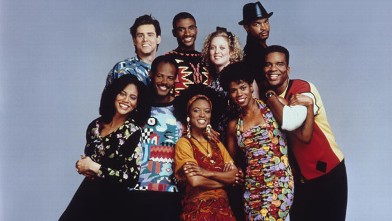 The skirt is also vintage, I picked it up from EV Vintage Collective, a shop located in the Village.
The purple created cohesion between the top and the bottom, while the black suede Schutz booties (similar version here, here, and here) round out the look, bringing together the black in the top with the texture of the skirt.
I can't forget to shout out Long Tall Sally for the LONG white camisole layered underneath my top. This was my first purchase from that store and – let me tell you – I'm a happy customer. This cami is so long that I can actually tuck it in. I'm used to having cami's ride up on me, not pretty or comfy. #tallgirlproblems
How do you think it all came together? How are you incorporating more prints and texture into your looks?